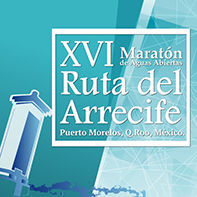 Ruta del Arrecife
The dates for this event have already occurred, please check back again for new dates.
Puerto Morelos, QR 77580

Maya Sports y PRODUTEC

March 21, 2021

Playa Ventana al Mar

7:00 AM

Para mas información visite el sitio web
Se nadará en un circuito de 1.25 km con punto de partida y meta en la playa Ventana al Mar junto al faro del muelle principal en Puerto Morelos Q. Roo, México. La ruta de 250 mts será de la salida a una boya ubicada a 125 mts.