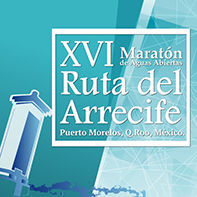 Ruta del Arrecife
The dates for this event have already occurred, please check back again for new dates.
Puerto Morelos, QR 77580

Maya Sports y PRODUTEC

March 21, 2021

Playa Ventana al Mar

7:00 AM

For more information please visit the website
1.25 km circuit with the starting point and finish line at "Ventana al Mar" beach next to the lighthouse on the main pier in Puerto Morelos, Q. Roo, Mexico. The 250 meter route will be from the exit to a buoy located at 125 meters.
For more information please visit the website